Afro Island x Reggae Brunch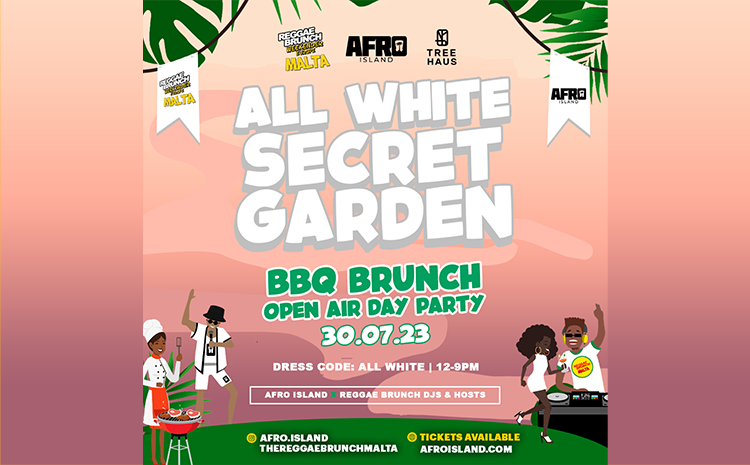 ALL WHITE SECRET GARDEN
BBQ BRUNCH – Open Air Day Party.
Introducing Malta's largest Afro BBQ party in partnership with Reggae Brunch, the UK's wildest brunch party! Join us on Sunday, July 30th for the extraordinary All White Secret Garden event – the first of its kind in Malta.
Get ready to immerse yourself in the enchanting atmosphere of Treehaus, a hidden garden in the heart of Malta. Kick off the day with a mouthwatering Caribbean Fusion BBQ* featuring Jerk Chicken, Vegetable Curry, and Escovitch Fish, accompanied by DJs from Afro Island and Reggae Brunch to keep the rhythm alive.
After dining hours, the party continues with a breathtaking after-party filled with games, activities, and food/drink challenges. Our lively Hosts and MCs will ensure the vibes stay on point all day long. Enjoy food from 12 pm to 3 pm, followed by the after-party from 3 pm onwards.
Groove to the sounds of Reggae, Soca, and Dancehall during dining hours, and then transition seamlessly to Afrobeats, RNB, and Amapiano as the evening heats up. Don't miss out on Malta's ultimate Afro BBQ event – a day of delicious food, electrifying music, and an unforgettable ambiance.
Dress Code: All White (no entry without).
*Food tickets are limited to only 100 people. Once these are sold out no more will be made available.
📅: Sunday 30th July (12-9pm)
⏰: Dining Hours 12-3pm / After Party 3-9pm
🎧: Headline DJs, Hosts & Artists (TBA)
📍: Treehaus, Uno
🎟: Food & After Party starting from €20